How our small group helped over 1,200 migrant workers reach home in UP, Bihar, Jharkhand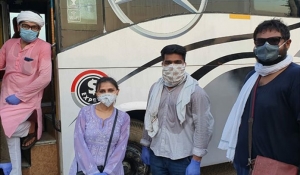 Aside from arranging the travel, the group also provides cooked food, water, juice, slippers, ORS, sanitary pads & masks to the migrant workers travelling home.
The Covid-19 lockdown announced on 24 March 2020 resulted in many migrant workers making the arduous journey back home with no work, income or food. The exodus of migrant workers, which started in March, continued all the way through June, with many losing their lives while trying to get back home.
Although train services have restarted and the economy has reopened substantially, the movement of migrant laborers still continues till date. To help them out, a group of four young residents started an initiative, Migrant Travel Support, and has been sending people back to their homes in Jharkhand, Bihar and Uttar Pradesh.